If you come across a wave of positive energy, cordiality and a sincere smile somewhere in the hallways of the branch office in Sesvete, be sure to meet the waitress Jasmina Malović .
When we add to that her professionalism and punctuality in performing work tasks, but also her loyalty to Zubak Group, which lasts a full 21 years , then it is clear why we decided to present Jasmina Malović, a waitress at Zubak Group in Sesvete.
Talking to Jasmine reveals how she actually found herself on the "other side of the bar" by chance.
I finished administrative school, so by coincidence I stayed home with the children. When my little girl turned five, I said, I'm going to do anything. I'm not ashamed to do anything! She first applied for a job as a cleaner at AutoZubak Sesvetski Kraljevec in November 1999.
Just Mr. Pavo Zubak hired me in Kraljevec, that's where I started. Then, because of maternity leave or sick leave, my colleagues put me at the bar. When the boss realized that I was kind to people and that I could do it, I spent less and less time cleaning, and more and more in catering – 56-year-old Jasmina reveals to us, and then admits that it was quite difficult for her at first.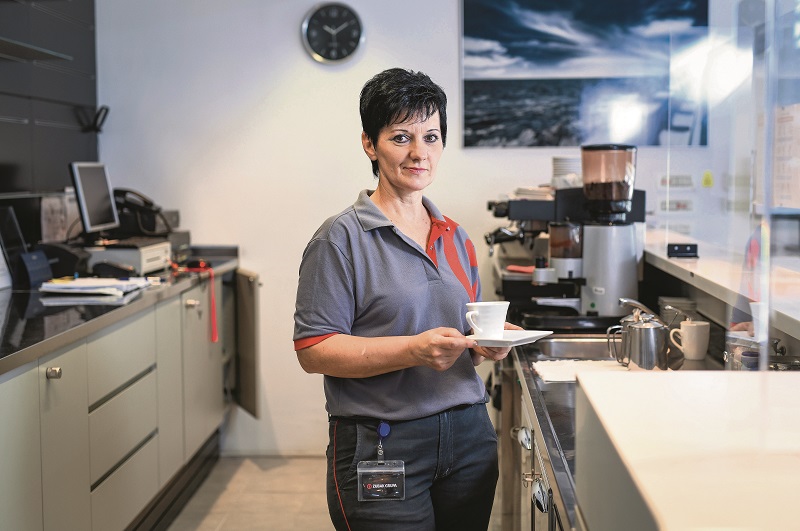 I wondered how I was going to get along with people and I was always thinking "Dear God, how am I going to handle this when I don't even know the tray". Even when you are nervous and your hands are shaking, it was not easy. But fortunately, I am a really stable person and I remember well, so I serve everyone what they asked for, I remember everything, there is no writing!
But once she got into the business, everything else went smoothly.
I really enjoy working with people, I love people and I give my best. As much as I was against it, I am very pleased now. I think people love me, I feel it, and it's a mutual pleasure.
And what does the average working day look like, we asked Jasmina, who has been working at the branch office in Sesvete for the last 9 years.
I don't have a seat. Every weekday I am on my feet for nine hours. Although I officially start at 7:30 am, I usually arrive at work 50 minutes earlier, and after work I stay half an hour longer. I like to come earlier and leave later because I like to systematize my work, I like that everything is washed properly and that everything is in place. You don't have to be "on the knap" and although there is a first time for everything, I have to say that it never occurred to me that I was late. I see that everything is on time, with will and good . It means a lot to me when they praise me and when people are happy with me, it's my big adrenaline rush, it's my full hit! – says the always smiling Jasmina.
Her loved ones, namely her husband with whom she had two daughters in a happy marriage, Mihaela and Manuela, get along well and are a great support. Together with their grandson and granddaughter, they are happy and content in their family.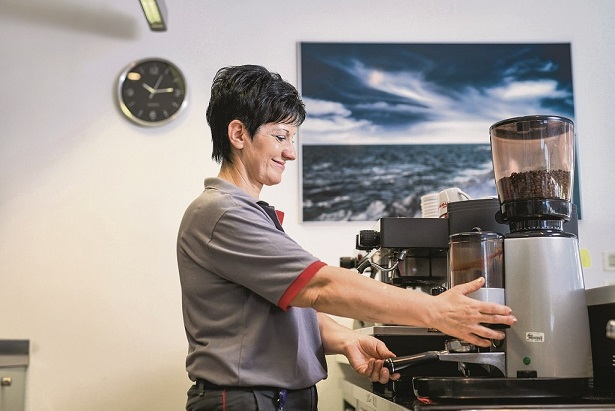 Colleagues about Jamina:
Jasmina can work in any business that involves communicating with people and will be just as good as in her job now. This is the person who regularly brings me the first of every month with coffee and a report on the bar. – Dimitrije Trbović
Jasmina is one of the most cheerful people in the company! She is always smiling and always has time for a handful of conversations. During the day, she covered several kilometers, but nothing was difficult for her. In addition, she cooks the best coffee in Sesvete, and considering that we work next to two coffee factories, that's a big compliment! – Ivana Petrović
Besides all the beautiful things I can write about Jasmina, and a lot could be written, I would say unique person …- Tihana Ergović